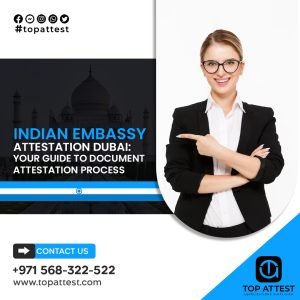 UAE is home to many Indians and in fact, most expatriates in UAE are Indians. MOFA attestation and Indian Embassy attestation is mandatory for employment, business, education, and residential purposes, etc., and many government-authorized attestation services provide a quick attestation for Indians. The UAE's document attestation process is essential for Indian expats, validating the authenticity of their documents for various purposes. However, this crucial procedure has also attracted fraudulent activities targeting unsuspecting individuals. The blog is to create awareness about document attestation fraud in the UAE and thus safeguard Indian ex-pats from scams. Taking preventive measures will help ex-pats protect themselves and their personal information from falling victim to deceptive practices. Ensuring a secure and legitimate attestation process is vital for maintaining the credibility of essential documents and avoiding potential legal repercussions.
Understanding Document Attestation
Document attestation is a verification process carried out by the Indian embassy in the UAE to confirm the legitimacy of documents. It is required for various purposes such as employment, education, marriage, and legal transactions. This validation adds legal value and ensures that documents are accepted by authorities in India.
Types of Document Attestation Scams
a) Fake Attestation Agencies: Scammers may set up fake agencies claiming to provide attestation services. They might offer attractive prices and faster processing times to lure victims into their trap.
b) Identity Theft: Fraudsters could steal personal information from unsuspecting individuals and use it to forge documents. They may use it to apply for attestation services on their behalf, causing serious legal consequences for the victim.
c) Misleading Websites: Scammers create misleading websites that closely resemble official embassy sites to deceive people into providing sensitive information. And they make payments for non-existent attestation services.
Warning Signs of Attestation Fraud
a) Unrealistically Low Prices: Some minimal charges are applicable for each activity, so be cautious of agencies offering attestation at unbelievably low prices. They may not be genuine or may have hidden costs as well.
b) Unsolicited Communication: If you receive unexpected emails, messages, or calls claiming to provide attestation services, do make some research. Also, do not engage in unsolicited communication or transfer of documents.
c) Lack of Official Documentation: Genuine agencies always provide proper receipts, acknowledgements, and official documentation for the services they offer. The lack of these is a red flag.
Verifying the Authenticity of Attestation Agencies
a) Cross-Check with the Embassy: Before hiring an attestation service, verify the agency's legitimacy with the official website or contact the Indian embassy in the UAE.
b) Read Reviews and Testimonials: Look for reviews and testimonials from previous customers to gauge the agency's reputation and credibility.
c) Physical Office Presence: Legitimate attestation agencies usually have a physical office, so consider visiting their premises to ensure their existence.
Protecting Yourself from Attestation Scams
a) Do Your Research: Understand the official attestation process and requirements by referring to the Indian embassy's website or reputable sources.
b) Secure Your Personal Information: Avoid sharing sensitive details with unknown parties and use secure channels for communication.
c) Opt for Reputed Agencies: Choose established and reputable attestation agencies, even if their fees may be slightly higher.
As Indian expats in the UAE, it is crucial to be vigilant against document attestation scams. Practicing the warning signs and taking preventive measures will safeguard your personal information and avoid falling victim to fraudulent activities. Always rely on official sources and reputable agencies for document attestation services in dubai to ensure a smooth and secure process. Stay informed and aware to protect yourself and your documents from potential scams.